NOVOMATIC Interim Results 2016
Revenues +10.8% to EUR 1,094.9m
EBITDA -1.2% to EUR 287.2m
EBIT -12.6% to EUR 141.4m
Profit after taxes of EUR 79.6m
Cash Flow from operating activities EUR 194.2m
Free Cash Flow of EUR -107.3m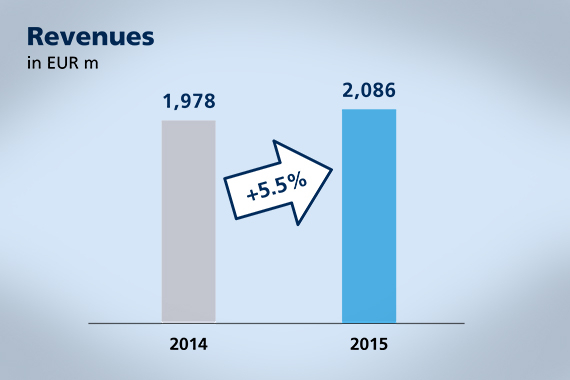 Revenues
During fiscal year 2015, revenues surpassed EUR 2 billion for the first time in the company's corporate history, reaching a total of EUR 2,086.3 million. This is an increase of 5.5 percent over the previous year.
The largest absolute increase was achieved in the area of rental revenues which rose by 7.9 percent to EUR 594.7 million. Apart from the successful acquisition of Playnation in the United Kingdom completed in 2015, the established companies in Italy and Germany also contributed to this positive development.
Revenue growth came in slightly lower in the areas of betting revenues (up EUR 19.4 million), gaming machine revenues (up EUR 18.7 million) and sales revenues (up EUR 13.1 million). Compared to previous periods, machine revenues, however, underperformed due to the discontinuation of state-regulated gaming in Vienna. E-business revenues also increased by only EUR 10.4, showing signs of a weakening momentum compared to previous years.
EBITDA
Earnings before interest, taxes, depreciation and amortization (EBITDA) declined by 4.7 percent against the previous year to EUR 616.7 million. This corresponds to an EBITDA margin of 29.6 percent, compared to 32.7 percent in 2014.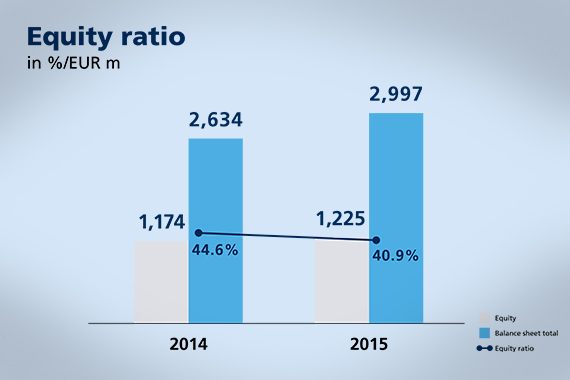 Equity Ratio
During the reporting period, equity capital rose by EUR 50.6 million to EUR 1,224.9 million, of which EUR 49.9 million consisted of other shareholders' shares. In addition to this, equity capital is comprised of the registered capital of NOVOMATIC AG (amounting to EUR 26.0 million), capital reserves (amounting to EUR 1.0 million), retained earnings (amounting to EUR 1,180.5 million), the valuation reserve as per IAS 39 (amounting to EUR -8.6 million) and the currency translation adjustment (amounting to EUR -23.9 million). As of the reporting year's balance sheet date, the equity ratio was 40.9 percent, compared to 44.6 percent in the previous year.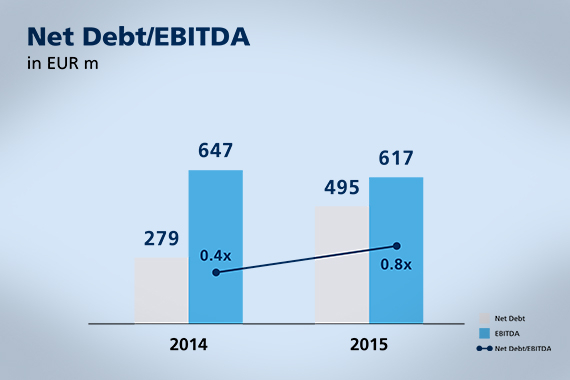 Net Debt/EBITDA
The ratio of net debt to EBITDA increased from 0.4x in the previous year to 0.8x.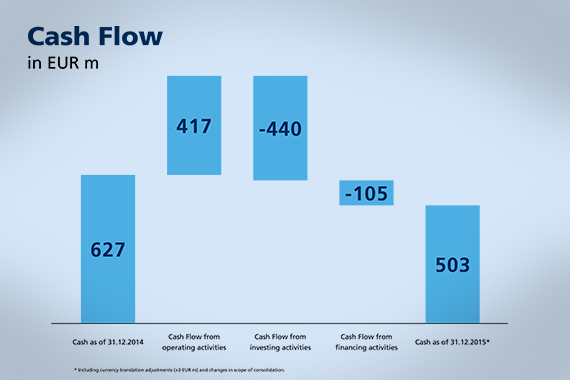 Cash Flow
Across the Group, cash flow from operational activities totaled EUR 487.4 million in 2015, compared to EUR 444.5 million the previous year.
Cash flow from investment activities amounted to EUR -427.0 million in the year under review, while the comparative figure for the year 2014 amounted to EUR -195.7 million. Apart from an increase in cash outflows for investments in gaming devices produced in-house against the previous year, this significant change was in particular due to the transactions for the purchase of an indirect interest of approximately 23.1 percent in Österreichische Lotterien.
The cash flow from financing activities amounted to EUR -105.2 million during the reporting year, a decline against the previous year's value of EUR -47.8 million. While in the previous year the issuance of a new bond (volume of EUR 200 million) resulted in a positive cash inflow, the cash flow from financing activities decreased in 2015 due to the repayment of a bond which had reached maturity (volume of EUR 200 million). The interest and dividend payments increased against the previous year, resulting in a further negative impact on the cash flow from financing activities. The issue of a promissory note bond and an increase in bank liabilities were not enough to compensate for the above-mentioned effects during the year under review.