Facts & Figures Interim Financial Report 2020
Revenues -36.1% to EUR 805.4m
EBITDA -56.2% to EUR 131.2m
EBIT of EUR -98.6m
Result for the period EUR -108.1m
Free cash flow before acquisitions EUR 52.2m
Free cash flow after acquisitions EUR 138.9m
Total assets +0.6% to EUR 4,373.8m
Revenues
Despite numerous regulatory challenges, revenue for the 2019 fiscal year came in at EUR 2,607.3 million, representing an increase of EUR 21.9 million (+0.8 percent) over the previous year.
The largest absolute increase was achieved in the area of betting revenues, which rose by EUR 19.3 million (+12.4 percent) to EUR 175.3 million. The Austrian market in particular contributed to this positive development, recording an increase of EUR 13.0 million.
Revenue from the rental of gaming machines also saw a substantial increase from EUR 18.4 million (+3.5 percent) to EUR 537.8 million in 2019. This growth is attributable to the Group companies in the United Kingdom (EUR +5.0 million) and Italy (EUR +3.0 million), in addition to the Australian company Ainsworth Game Technology Ltd. (EUR +5.2 million), which has been benefiting from strong demand in the North American market. Sales revenues in 2019 amount to EUR 395.6 million, an increase of EUR 7.5 million (+1.9 percent) which was achieved, despite lower revenues generated by NOVOMATIC AG, thanks to greater demand for NOVOMATIC devices and components in the core markets of Italy (EUR +8.0 million), the United Kingdom (EUR +5.4 million) and Germany (EUR +4.4 million).
EBITDA
Earnings before interest, taxes, depreciation and amortization (EBITDA) rose by EUR 136.8 million (+24.9 percent) in 2019 to EUR 685.3 million. The associated increase in the EBITDA margin from 21.2 percent to 26.3 percent is mainly attributable to the first-time application of IFRS 16. Earnings before interest and taxes (EBIT) of EUR 167.4 million was also up significantly on the previous year's level (EUR -138.6 million), which had been negatively burdened by one-off impairment-related effects in the amount of EUR 356.1 million (netted with impairment reversals).
Equity Ratio
Equity increased by EUR 41.4 million (+3.1 percent) to EUR 1,400.1 million during the reporting period. While the revaluation reserve item declined by EUR 38.8 million (-47.3 percent) to EUR 43.3 million as of December 31, 2019, mainly due to the valuation of shares in Casinos Austria AG, revenue reserves of EUR 1,103.5  (+5.9 percent) million were a main factor behind the increase in equity. Currency translation adjustments also rose by EUR 19.9 million (+22.2 percent) to EUR -70.0 million.
The increase in non-current liabilities by EUR 165.9 million (+9.1 percent) to EUR 1,995.4 million in 2019 is primarily due to the first-time recognition of lease liabilities of EUR 567.9 million in accordance with IFRS 16. This increase is offset by a decrease in non-current financial liabilities of EUR 351.9 million stemming from a reclassification to current financial liabilities.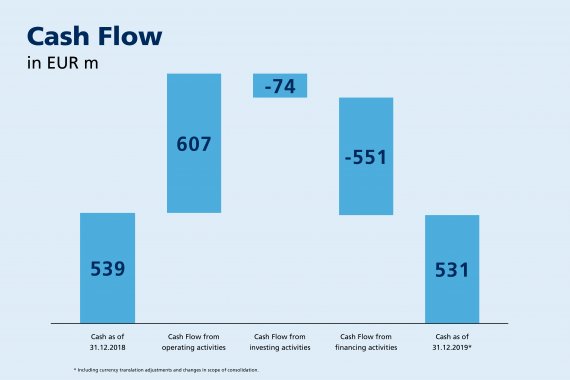 Cash Flow
Across the Group, cash flow from operating activities totaled EUR 606.7 million in 2019, compared to EUR 483.3 million the previous year. First-time application of IFRS 16 standards led to a reduction of EUR 144.3 million in Group rental expenses. The operating result increased by EUR 305.9 million to EUR 167.4 million, mainly as a result of lower levels of depreciation, amortization, and impairment losses than in the same period of the previous year. Moreover, income tax payments of EUR 42.6 million in the 2019 fiscal year were EUR 69.9 million lower than in the previous year, due in particular to the lower earnings in the assessment period deviating from the period under review. The change in working capital is considered to have an offsetting, and thus cash-reducing, effect. This change resulted in a cash outflow of EUR 44.5 million in the 2019 fiscal year. In particular, the increase in receivables and other assets (EUR 41.8 million) and the repayment of liabilities and other liabilities (EUR 24.2 million) were responsible for the reduced cash flow from operating activities. In the previous year, the change in working capital resulted in a cash inflow of EUR 16.3 million.
Cash flow from investing activities amounted to EUR -74.0 million in the reporting year, compared with EUR -714.5 million for 2018. The "Acquisition of consolidated companies, net of cash" item is particularly noteworthy here. While there were minor cash outflows of EUR 12.7 million for the acquisition of consolidated companies in the 2019 fiscal year, the previous year saw a significant increase in cash and cash equivalents, particularly as a result of the acquisition of the shares in Ainsworth Game Technology Ltd. (EUR 294.7 million), cash outflows totaling EUR 313.1 million were reported in this item. In addition, investments in intangible assets and property, plant and equipment decreased by EUR 232.2 million in the reporting period. The lower cash outflow is attributable to the current consolidation efforts. Another positive effect is attributable to the sale of the subsidiaries in United Kingdom and Croatia. In total, disposals generated cash inflows of EUR 151.6 million, compared with EUR 34.5 million in the same period of the previous year.
The cash flow from financing activities increased compared with the previous year's period (EUR -143.7 million) and amounted to EUR -551.4 million in the 2019 fiscal year. There are two main reasons behind this development. On the one hand, the repayment of a bond in the amount of EUR 246.0 million is responsible for the year-on-year difference, and on the other hand, payments from lease liabilities were included due to the first-time application of the IFRS 16 standard, which increased the cash outflow from financing activities by a further EUR 147.3 million. Loan repayments of EUR 79.7 million went up by EUR 29.7 million in the reporting period compared with the previous year.